PASSIONATE
COACHES
These are the coaches that will help you unleash your inner beast at CrossFit Jaguar. Our talented trainers have years of CrossFit experience, plus the knowledge, insight and compassion they need to help you reach your goals. They are dedicated to helping every member achieve their personal best in fitness, performance and improved overall quality of life. Meet the team that will take you there.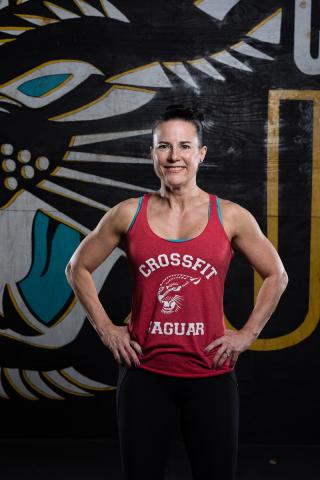 Paula Jager
FOUNDING OWNER
Paula Jager
FOUNDING OWNER
Founding Owner Paula Jager has been personally and professionally involved in the fitness industry since 1995. Her competitive background includes obstacle course and women's fitness competitions and currently powerlifting. She believes fitness fuels your health and mental well being; keeps you young, ages you gracefully and prevents age related diseases caused by a sedentary lifestyle and poor nutritional habits.
Introduced to CrossFit in 2008 it propelled her philosophies to the next level and she hasn't looked back. it matters not what condition you start in but what your desire to improve is.
Today, as the founder of CrossFit Jaguar, she specializes in making people the best they can be. "I love seeing the 'I can' mentality come into being," she says. When Paula is not at the box she can be found in her kitchen cooking, writing or at the beach with her husband Rick. Her favorite quote "that which doesn't kill you makes you stronger."
Certifications
CrossFit Level 1
CrossFit Football
CrossFit Olympic Weightlifting
CrossFit Movement & Mobility
CrossFit Kids
CrossFit Nutrition
BS
NSCA CSCS & CPT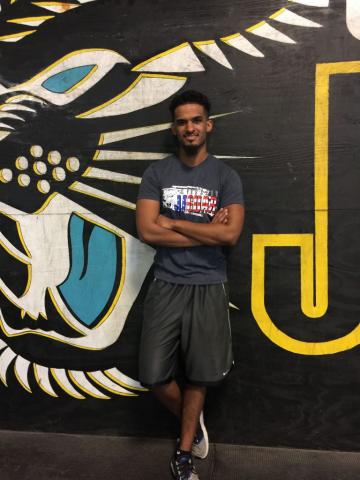 David Wright
Coach
David Wright
Coach
Coach David has been involved in the fitness industry since he was in high school and joined the wrestling team. He realized that how to train and practice is a reflection of how well you perform. He started doing crossfit in 2014 and roughly 2 years after training and doing a few competitions, decided that he wanted to start coaching. He loves the wide variety of movements that are done in crossfit as well as the intensity that they are done at. Most of all he loves the vibe that gets produced from all the members after we finish a tough workout. Seeing members setting new PRs and doing movements they've never done before is a great thing witness.
Favorite Quote: "You get out what you put in"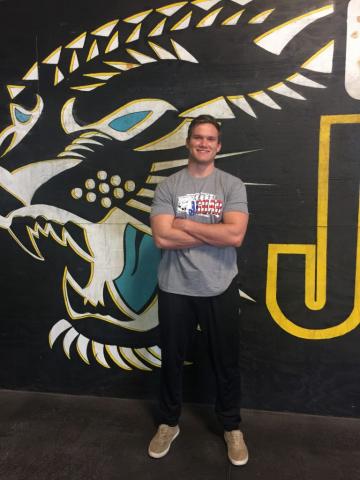 Justin Lawson
Coach
Justin Lawson
Coach
Justin has been in the weight room since he was 10 years old. He has grown up around fitness and loves to be active in his daily life. Throughout his high school experience, he spent every day after school in the weight room in order to better his performance in various sports, but also just for the sole purpose that he had a passion for lifting. Once Crossfit became more well known in 2014, he began implementing these types of workout in his daily routine and fell in love with it. Now, he is beginning to compete in Olympic Weightlifting in addition to coaching Crossfit.
He currently attends the University of South Florida, and is pursuing a degree in Exercise Science with a minor in Nutrition.
Favorite Quote: "'Oh, I am so unfortunate that this has happened to me.' Not at all, but rather 'How fortunate I am, that though this has happened to me, I continue uninjured, neither terrified by the present, nor in fear of the future.'"  -Marcus Aurelius
Certifications
CrossFit Level 1
CPR, AED, First Aid
Kelly Goede
Coach
Kelly Goede
Coach
Kelly fell in love with CrossFit in 2015, in Gainesville, Florida,  as a wife to Todd and mom to four children (including a set of twins and a son who is a congenital amputee). Until her mid-twenties, dance was her passion, and the foundation it provided has blended in nicely with CrossFit. Kelly has been a high school English teacher (with a Master's in Education from the University of Florida), a writer for two different magazines, a costumer and choreographer for a children's theater company, and currently works in kids' ministry at Bay Hope Church. She believes that ANYONE can do CrossFit!
"After three pregnancies did a number on my body, I decided before I turned 40 to make time for fitness…and it has led to finding the CrossFit community at three different gyms in three different cities and inspired me to pursue coaching. I am especially passionate about helping people who may not see themselves as athletes find the same joy in fitness that I have found."
Certifications
CrossFit Level 1
Adaptive CrossFit