PASSIONATE
COACHES
These are the coaches that will help you unleash your inner beast at CrossFit Jaguar. Our talented trainers have years of CrossFit experience, plus the knowledge, insight and compassion they need to help you reach your goals. They are dedicated to helping every member achieve their personal best in fitness, performance and improved overall quality of life. Meet the team that will take you there.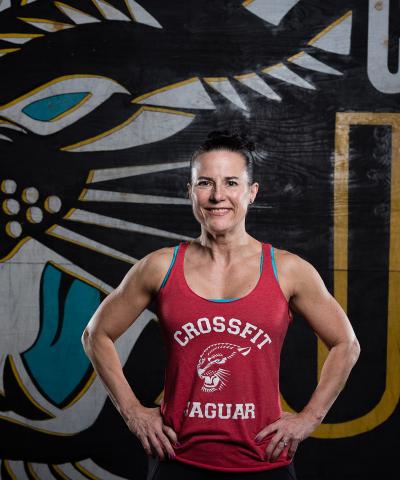 Paula Jager
FOUNDING OWNER
Paula Jager
FOUNDING OWNER
Founding Owner Paula Jager has been personally and professionally involved in the fitness industry since 1995. Her competitive background includes obstacle course and women's fitness competitions and currently powerlifting. She believes fitness fuels your health and mental well being; keeps you young, ages you gracefully and prevents age related diseases caused by a sedentary lifestyle and poor nutritional habits.
Introduced to CrossFit in 2008 it propelled her philosophies to the next level and she hasn't looked back. it matters not what condition you start in but what your desire to improve is.
Today, as the founder of CrossFit Jaguar, she specializes in making people the best they can be. "I love seeing the 'I can' mentality come into being," she says. When Paula is not at the box she can be found in her kitchen cooking, writing or at the beach with her husband Rick. Her favorite quote "that which doesn't kill you makes you stronger."
Certifications
CrossFit Level 1
CrossFit Football
CrossFit Olympic Weightlifting
CrossFit Movement & Mobility
CrossFit Kids
CrossFit Nutrition
BS
NSCA CSCS & CPT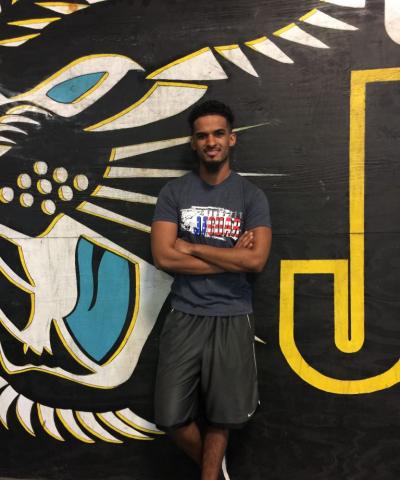 David Wright
Coach
David Wright
Coach
Coach David has been involved in the fitness industry since he was in high school and joined the wrestling team. He realized that how to train and practice is a reflection of how well you perform. He started doing crossfit in 2014 and roughly 2 years after training and doing a few competitions, decided that he wanted to start coaching. He loves the wide variety of movements that are done in crossfit as well as the intensity that they are done at. Most of all he loves the vibe that gets produced from all the members after we finish a tough workout. Seeing members setting new PRs and doing movements they've never done before is a great thing witness.
Favorite Quote: "You get out what you put in"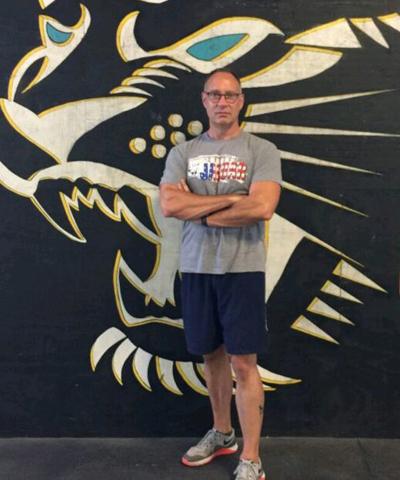 Evan Ladd
Coach
Evan Ladd
Coach
Evan's fitness background started as a long-distance cyclist at age of 15, working up to multi-week biking trips and century (100 mile) rides. At 17, he finished the Pocono Century in less than 8 hours. From college on, it was standard weightlifting and cardio but as life progressed, the gym fell away in favor of an engineering master's degree leaving him overweight, weak and tired. After seeing a CrossFit banner 
outside of work, he popped in for the 4-week boot camp, officially starting in 2015 on his 52nd birthday at 210 lbs with a cholesterol level of 340. 
The first 3 months brought higher cardio capacity and a stronger core, and then the focus became nutrition. After a year he was down to the 190 pounds that he had been saying was his weight for years. Now at 178 with cholesterol at 170, he credits CrossFit with saving his health if not his life and longevity. 
His focus on coaching is to help others without a strong fitness background, or who are returning to fitness due to injury or life events and emphasizes progressive scaling options to develop athletes' skills. Teaching proper form will keep athletes injury-free while improving strength and abilities. 
Favorite quote: "So act that the principle of your action might safely be made law for the whole world" – Immanuel Kant
Certifications
CFL1
CFL2
Scaling course
CPR, AED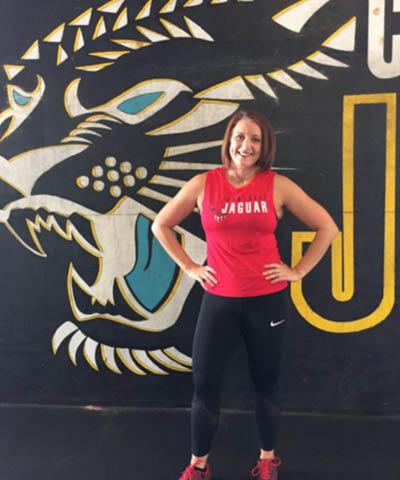 Kelly Goede
Coach
Kelly Goede
Coach
Kelly fell in love with CrossFit in 2015, in Gainesville, Florida,  as a wife to Todd and mom to four children (including a set of twins and a son who is a congenital amputee). Until her mid-twenties, dance was her passion, and the foundation it provided has blended in nicely with CrossFit. Kelly has been a high school English teacher (with a Master's in Education from the University of Florida), a writer for two different magazines, a costumer and choreographer for a children's theater company, and currently works in kids' ministry at Bay Hope Church. She believes that ANYONE can do CrossFit!
"After three pregnancies did a number on my body, I decided before I turned 40 to make time for fitness…and it has led to finding the CrossFit community at three different gyms in three different cities and inspired me to pursue coaching. I am especially passionate about helping people who may not see themselves as athletes find the same joy in fitness that I have found."
Certifications
CrossFit Level 1
Adaptive CrossFit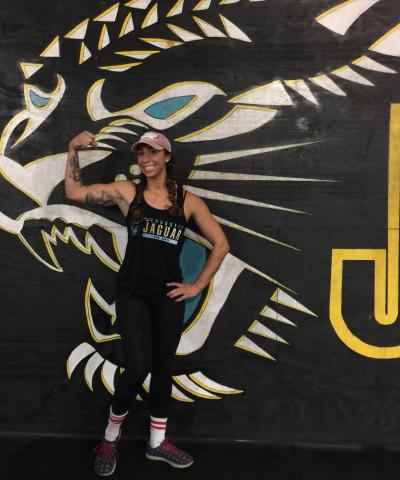 Ali Marino Toler
Coach
Ali Marino Toler
Coach
Ali started her CrossFit and fitness journey in 2016 after deciding she needed something more than competing in local 5k races. A Florida native, wife with 3 boys and a full time construction management career - in 2016-2018 Ali competed in every local CrossFit competition she had the time for.  She loves the competitive atmosphere and no matter what age or level you are, there is a movement for all!  "There is no better feeling than being surrounded by 100+ people who share the same passion as you!"  In 2018 she decided to really focus on the movements she loved and began to competitively focus her training on Squat, Bench, and Deadlift in the USPA Powerlifting federation. Ali is a USPA Elite Powerlifter and has competed in over 9 meets in her career.
"Without CrossFit I would have never found my love for Powerlifting. CrossFit not only can change your physical health, but it opens the doors to new passions, community, and pushes you to limits you never dreamed you would overcome."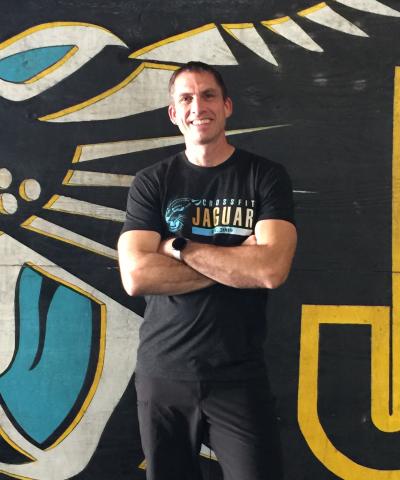 Kyle Watterson PT, MS
Coach
Kyle Watterson PT, MS
Coach
Kyle has a doctorate in physical therapy and a PhD in a related field. He has been a lifetime athlete with most accolades coming in baseball and cycling. Currently, he has credentials as a certified strength and conditioning specialist and CFL1. His practice was treating orthopedic and sports injuries, and he specialized in treating CrossFit and powerlifting athletes. He began his career in CrossFit out of interest with a Groupon many years ago, and is now a yearly CrossFit Open competitor. He is proficient in programming and individual modifications, but is still humbled by burpees, thrusters, and butterfly pullups on a regular basis.
Certifications
CF L1
CF L2
CPR, AED
MS PT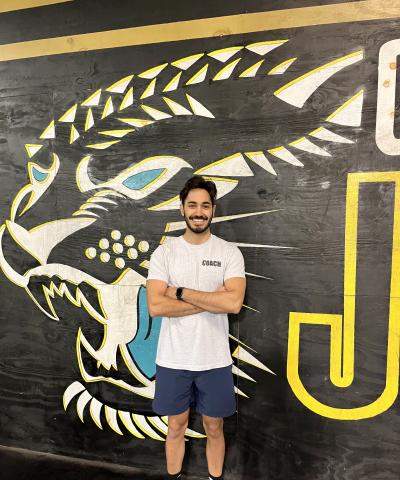 Ali Sadeghinia
Coach
Ali Sadeghinia
Coach
Ali is a student at USF with a background in Exercise Science as an undergraduate degree and Finance as a graduate degree. He is very passionate about human physical and mental performance work. Helping, teaching and training people to build their resilience within themselves that can carry over in all aspects of their lives, is one of his greatest visions in life.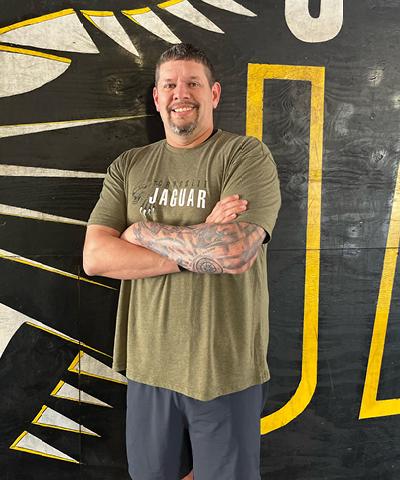 Thomas Marshall
Coach
Thomas Marshall
Coach
Thomas only started his CrossFit career in 2020 but has had a long love of athletics and coaching, as he grew up playing football and baseball. After moving to Florida with his wife, Suzanne, and two daughters, Thomas was diagnosed with a heart condition called A-Fib. After the trouble A-Fib put Thomas through, he joined CrossFit weighing 315 lbs in search of a change. He found community, friendship, and fitness at CrossFit Jaguar where his love for fitness revealed itself again. It wasn't too long after Thomas had met his fitness goals that he decided to add coaching along to his job as a Special Needs Coordinator at Bay Hope Church. Thomas thanks CrossFit for changing his outlook on fitness. Thomas believes in what CrossFit does and what it stands for, he hopes to help others along their path and show that anyone can do CrossFit! His story is a testimony to his favorite quote: "An excuse is a reason to fail."
Certifications
CrossFit Level 1
CPR, AED, First Aid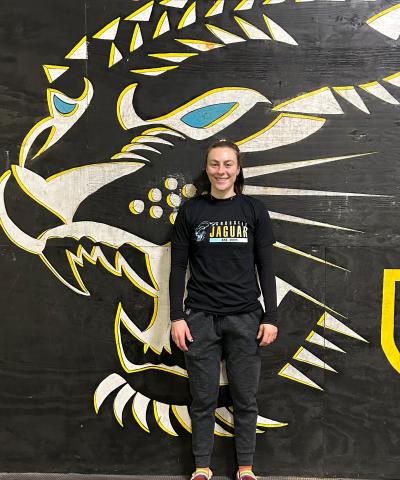 Shannon Palmer
Coach
Shannon Palmer
Coach
Coach Shannon started Crossfit in 2014 and fell in love with lifting. She slowly transitioned from Crossfit to Olympic Lifting and has now been competing in Strongman for 2 years. She is a registered dietitian with a specialty in sports performance and has her Masters degree in Exercise Physiology.  She owns her own nutrition business and coaches athletes on how to eat for performance and optimal health.