Image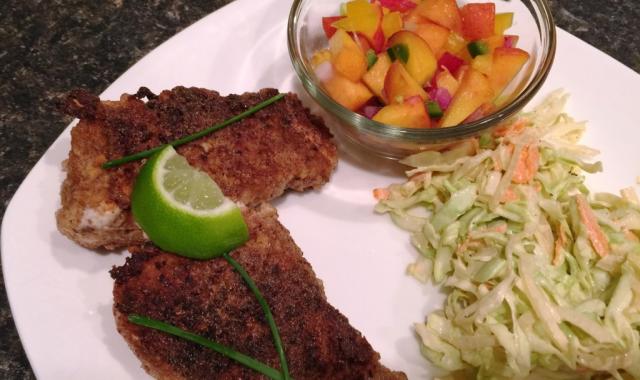 Nothing screams the start of summer better than peach season.  Well, if you live in Florida the humidity might but what better way to cool off than with this healthy refreshing summer supper.

Ingredients

1 pound fresh grouper
3/4 cup pecans (mine were from Pearson Farm)
1/2 cup King Arthur gluten free flour
1/4 teaspoon oregano
1/4 teaspoon basil
1/4 teaspoon thyme
1/4 teaspoon garlic powder
1/4 teaspoon onion powder
1/8 teaspoon freshly ground black pepper
1/8 teaspoon white pepper
1/8 teaspoon cayenne pepper
1 tablespoon paprika
1/2 teaspoon sea salt
1 egg, slightly beaten
2 tablespoons raw milk
2 tablespoons tallow, coconut oil or other healthy fat

2 fresh Georgia peaches
1/2 yellow bell pepper finely chopped
1/4 cup purple onion, finely chopped
1 jalapeno, seeded and finely chopped
1 tablespoon fresh squeezed lime juice
dash chili powder

Preparation

Process pecans until fairly fine and place in bowl.   Add seasonings and stir well to combine.  Add milk to slightly beaten egg in another small bowl.  Coat the fish with the flour, dip in the egg mixture, coating well and then roll in the pecan mixture.  Set aside on a plate.

Heat your healthy fat in a cast iron skillet over medium heat, cook the fish about 5 – 6 minutes on each side or until cooked through and golden brown.

For the salsa, combine all ingredients and mix well.

Enjoy!