Image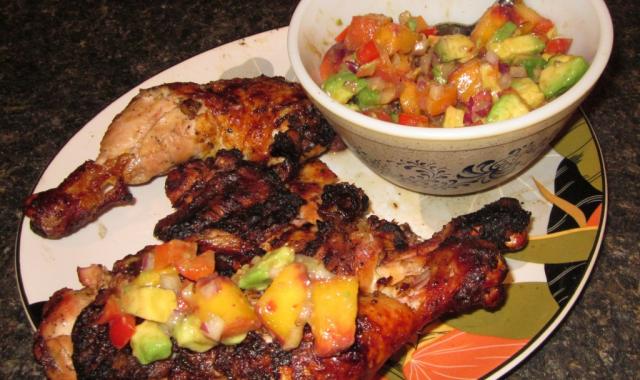 As the summer comes to a close that also signifies the end of peach season;  it saddens me every year.  The sweet, juicy peach is one of my favorite fruits. I'm rather picky about my peaches and IMO the best ones hail from Georgia.  If you've every traveled through the state during the summer and stopped at a roadside stand you'll feel like you're in heaven as you bite into the warm peach with the juices running down your chin.

I go so far as to have them delivered from Pearson Farms and I must confess I will eat a non organic peach although they are sustainably farmed and "every step is taken to minimize the use of pesticides."  Yes, I know–we all have our weaknesses and peaches are one of mine.

My favorite way to eat these delightful delicacies is in the raw or with a splash of cream.  But I went a little crazy and bought several this year and found other ways to include them in my meals.

Serve with your favorite side and enjoy!
Recipe & Ingredients

4 skin on chicken legs
1/2 cup dry white wine
1 1/2 tsp shredded orange peel
1/3 cup freshly squeezed orange juice
2 tbs olive oil
1 1/2 tsp fresh rosemary (1/2 tsp dried)
2 medium peaches (Georgia preferred although South Carolina has some fine ones)
1/2 cup chopped red pepper
1 ripe avocado (1/2 if using large Florida avocado); peeled, seeded and chopped
1/4 cup purple onion, finely chopped
2 tsp fresh squeezed lime juice
Preparation

To make the marinade combine wine, orange peel, orange juice, olive oil and rosemary.  Whisk well, place chicken legs in a resealable plastic bag, pour marinade over and refrigerate for 2 – 4 hours turning bag occasionally.

In the meantime make the salsa; pit and chop the peaches leaving the peel on and place in a bowl.  Add the red pepper, avocado, onion and lime juice.  Cover and chill until ready to serve.

Drain the chicken, reserving the marinade.  Place the chicken skin side down directly over medium coals and grill for 35-45 minutes or until chicken is no longer pink turning once and brushing with reserved marinade halfway through cooking.  Serve with the salsa