Image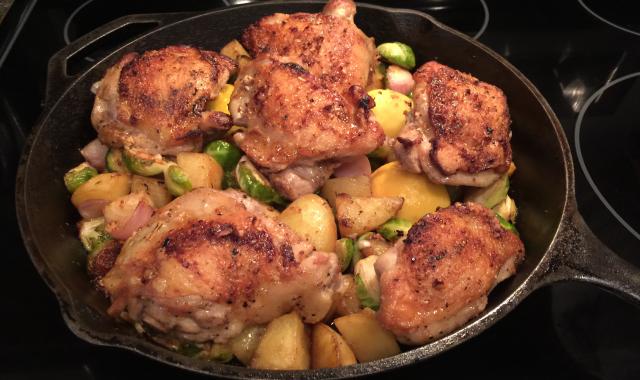 Fresh out of the March issue of Southern Living mag this easy and pretty skillet dinner tasted as good as it looks.  Packed with protein and gluten free it's a winner all the way around.

Ingredients

3 tablespoons olive oil, divided (can sub coconut oil)
4 (6-oz.) bone-in, skin-on chicken thighs
2 1/2 teaspoons kosher salt, divided
1 teaspoon black pepper, divided
2 medium lemons, halved
1/4 cup water
2 medium sweet or white potatoes, cut into 3-inch wedges (4 cups)
12 ounces Brussels sprouts, trimmed and halved (3 cups)
2 large shallots, halved
1 large garlic clove, finely chopped
1 tablespoon whole-grain mustard
1 teaspoon honey
1 teaspoon Worcestershire sauce
1 teaspoon chopped fresh rosemary
Fresh sprigs rosemary (optional garnish)

Preheat oven to 400°F with oven rack in bottom third of oven. Heat 1 tablespoon of the oil in a large cast-iron skillet on stove-top over medium-high. Pat chicken dry with a paper towel; sprinkle evenly with 1 1⁄2 teaspoons of the salt and 1⁄2 teaspoon of the pepper.


Place chicken, skin side down, in hot oil. Add lemon halves, cut sides down, to skillet. Cook until chicken skin is golden and crisp and lemons are charred, about 10 minutes. Transfer lemons to a rimmed baking sheet. Flip chicken, and continue cooking until golden on both sides, 4 to 5 minutes. Transfer chicken to baking sheet with lemons. Pour drippings from skillet into a small bowl, and reserve. Add water to skillet, and stir to loosen browned bits on bottom with a wooden spoon. Discard liquid; wipe skillet clean.
 


Heat remaining 3 tablespoons of the oil in skillet over medium-high. Add sweet potatoes, and cook 2 minutes. Add Brussels sprouts and shallots to skillet. Sprinkle vegetables with remaining 1 teaspoon salt. Cook until charred, about 5 minutes. Remove skillet from heat.
 


Add chopped garlic, whole-grain mustard, honey, Worcestershire sauce, and juice of 2 of the charred lemon halves (about 1 tablespoon) to reserved drippings in bowl, and whisk to combine. Return charred lemon halves (including squeezed lemon halves) to skillet with vegetables. Place chicken, skin side up, on top. Pour the drippings mixture evenly over chicken.
 


Place skillet in preheated oven, and bake until vegetables are tender and a thermometer inserted in thickest portion of chicken registers 160°F, 15 to 18 minutes. Remove from oven, and let stand 10 minutes (chicken temperature should rise to 165°F). Sprinkle with chopped rosemary and remaining 1⁄2 teaspoon pepper. Garnish with rosemary sprigs.