Image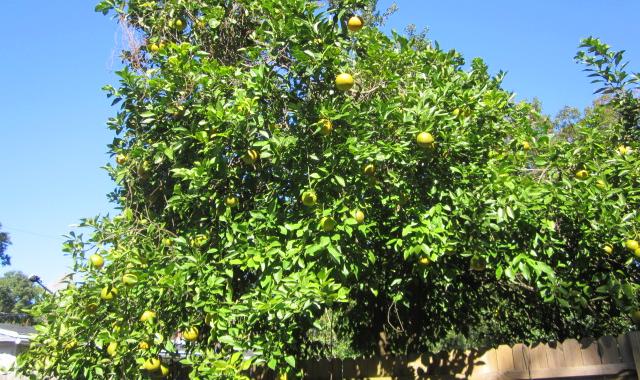 There's just something about picking a fruit off a tree or vegetables from a garden and bringing them to my table that thrills me. It takes me out of today's 24/7 go go technology driven world if only for a little while and brings a sense of calm while creating culinary pleasures.

This lovely sour orange tree has been around ever since I first visited my in-laws house in Jacksonville, Florida in 1985. When I was up there this past Christmas the tree was in full bloom and I climbed as high as I could and gathered a bounty of the abundant fruit.

Well, for about a week they looked rather pretty sitting on my counter, table, living room and a few other areas in decorative bowls.

And then I squeezed those babies, put them in different size Mason jars and then into the freezer and voila, I now have plenty of sour orange juice to last us through the season. Now, let's turn this into dinner. . .

Ingredients

6-8 lb pastured pork shoulder or butt (bone in is best)
2 tbs lard, coconut oil or bacon grease
2 cups sour orange juice*
1 1/3 cups extra virgin olive oil
8 – 10 fresh garlic cloves, coarsely chopped
1 onion, coarsely chopped
3+ tablespoons fresh oregano
sea salt & freshly ground black pepper to taste
*if you can't find sour oranges you may substitute equal parts fresh orange and lemon juice

Preparation

In a food processor place the coarsely cut garlic, onion, oregano and sea salt and pepper and pulse until finely chopped. With the processor running pour in the olive oil in a slow steady stream. Remove mixture to a large bowl and blend in the orange juice. Transfer to a large Ziploc bag and add your roast. Allow to marinate in the fridge for 24 to 48+ hours. Remove from fridge at least 1 hour before cooking.

Preheat your oven to 275 degrees. In a large cast iron skillet melt your fat over medium high heat. Sear your shoulder or butt on all sides until well browned and place fat side up in a large roaster. Pour the remaining marinade over the roast and cover. Place in the oven and cook for 5 to 7 hours or until meat pulls away from the bone easily and is very tender. Allow to sit for about 20 minutes.

With a fork shred the meat into a bowl or serving platter and mix with some of the pan juices.