Image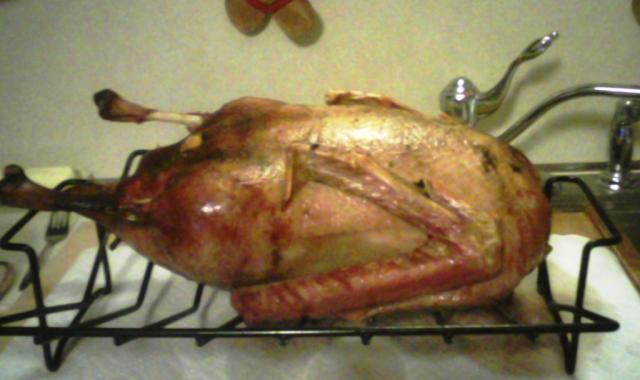 I hope you get a chuckle out of this story as it's just too funny not to share along with the recipe. . .

At Thanksgiving my sister in law and I always plan the forthcoming Christmas meal. Last year we decided that we would try something a little different that year and roast a goose. I had never roasted one before and promptly began researching recipes. I am always in charge of the meal planning and cooking while she does the decorating and table setting.

Wanting to be on top of things and not chance being unable to get a pastured goose around the holidays I promptly ordered one from my local Whole Foods early December and asked my husband to pick it up for us.

In the middle of a busy workday I get a call from my husband. Upon answering comes the bark "PJ, do you know how much this f'ing goose cost?" No dear, how much? "$135, that's ridiculous and I don't even like goose." Hmmm, to my knowledge he'd never eaten goose. Ok dear I replied that is a bit much don't buy it, we'll cook something else. "I'm not f'ing taking it back, I'm halfway home. But I'm not eating it." Now the goose was $7.99 a pound and weighed 14 pounds, it ending up feeding around 8 with a few leftovers. Reasonable if you ask me.

My husband is like a pit bull that got hold of a bone and just won't let it go sometimes. I had to listen that for the next 2 weeks. I named it the 'Golden Goose'. Every time the topic of Christmas dinner came up I heard the story again. And again.  With embellishments.  He complained about having to "drag the goose to Jacksonville."  Really?  It rode in the back in a cooler.

The roasted goose turned out splendidly and was raved about by the entire family.  The potatoes were incredibly delicious–nice and crisp from cooking in the goose fat.  The meat was exceptionally moist and the flavor superb if I must say so myself.  I rendered the fat which we used for the next several months to make delights such as goose fat fries and I made stock out of the leftover carcass and froze it for future use.

When I made the goose fat fries a few weeks later he remarked "what did you do different, the fries are even better than usual?"  The following March I had made some soup from the goose stock which my husband was raving about wanting to know what was so spectacular about this flavor. Hahaha, I couldn't help but let him know he was again eating the golden goose–the goose that kept on giving.  Now do you see?? I just love it when he realizes I was right. . .

If you're thinking of roasting a goose this holiday try out this recipe from James Beard.  I have been a fan of his since the 70's and the cookbook I've had since then is well worn.  After searching several recipes I went with his and this wisdom. . .





 


"There is a great deal of fat on a goose. Therefore it should be roasted slowly and on a rack so that the bird will crisp while the fat drips down into the roasting pan. I like to roast potatoes in the goose fat, for they become rather crispy and thoroughly saturated with flavor. Reserve the fat for future cooking. It can be used for many dishes. I always like to serve a large bowl of watercress with goose. It is so refreshing and seems somehow to offer an appropriate contrast of flavor as well as color." –James Beard

And here is his recipe:  I didn't change a thing
 
Recipe & Ingredients

1 goose
18 pitted prunes that have been soaked in Madeira for 4 days
6 apples, peeled, cored and halved
Nutmeg and lemon slices
Sea salt and freshly ground black pepper
6 potatoes, peeled and quartered lengthwise
Preparation

Stuff the goose with the prunes and the apples, which have been lightly salted and dusted with a bit of nutmeg. Here and there add a lemon slice. Place the goose on a rack in a rather deep pan, and cover lightly with foil. Roast at 325ºF. At the end of 2 1/2 hours remove the foil and baste with the drippings. Continue roasting till browned and tender. A large goose should take about 3 or 3 1/2 hours to cook.






 


Add the potatoes to the bottom of the pan 1 hour after the goose is placed in the oven.  They will be ready with the goose—delicious, crisp, and rich as can be!