Image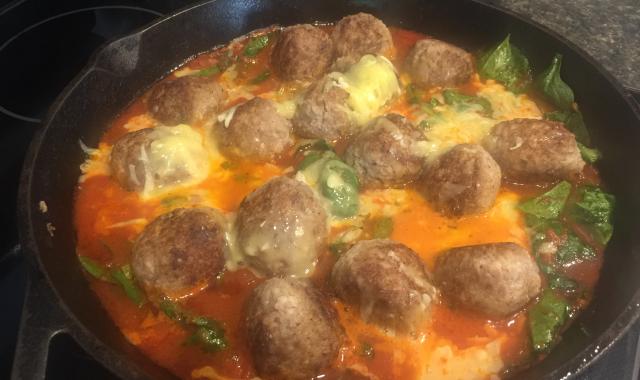 Looking for an easy, one dish weeknight dinner?  Look no further. This meal takes less than 30 minutes, is packed with protein, veggies included and is delicious!

Ingredients
1/2 cup gluten free panko
3 tablespoons whole milk
1 egg, slightly beaten
1/2 cup grated yellow onion
3 tablespoons Parmesan cheese
1 tablespoon balsamic vinegar
1/2 teaspoon sea salt
1/2 teaspoon ground pepper
1 pound grass fed ground beef*
1 tablespoon tallow or butter
24 oz marinara sauce
6 oz fresh baby spinach
3 oz fresh grated mozzarella cheese
2 tablespoons sliced fresh basil
*Can substitute 1 pound ground turkey for a lighter meal

Preparation
Stir together panko and milk in a large bowl; soak 5 minutes. Add egg, onion, Parmesan, vinegar, salt, and pepper; stir to combine. Add beef or turkey, stirring gently until just combined. Using your hands, gently shape mixture into 16 (1 1/2-inch) balls.

Heat fat in a large skillet over medium-high. Add meatballs; cook, turning often, until browned on all sides, 8 to 10 minutes. Transfer to a plate.

Reduce heat  to medium-low; add marinara and spinach. Increase heat to medium, and bring to a simmer. Simmer until spinach just begins to wilt, 2 to 3 minutes. Return meatballs to sauce in skillet; sprinkle with mozzarella. Cover and cook until meatballs are cooked through, 4 to 5 minutes. Sprinkle with basil; serve immediately.